Famous Entrepreneurs Are Kings Who Make A Difference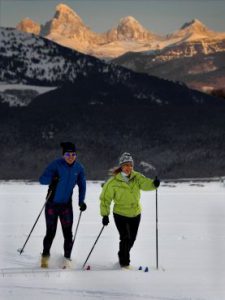 Many famous entrepreneurs leave legacys that bless multiple generations. Here we are skiing on our land near Grand Teton National Park.
It was John D. Rockefeller of Standard Oil who donated this land for the benefit of all to enjoy.
How would it make you feel to create one of the world's most famous National Parks. What a legacy!
Entrepreneurs Are "Kings"
Scripture tells us; "Christ redeemed us to God by His blood and has made us kings and priests to our God; and we shall reign on the earth."
Why do we say famous entrepreneurs are kings? Because they have the heart of a king. They think and act like kings.
Kings build kingdoms that benefit others… kings get things done. Entrepreneurs entertain home business ideas and build businesses that benefit others… entrepreneurs get things done.
This is part of the definition of capitalism. You create wealth that overflows to bless others. Entrepreneurs lead. They risk. They take responsibility.
Many famous entrepreneurs never identify themselves as "kings". It isn't ecumenically correct to view oneself above others.
In fact, Jesus said that he who is greatest among you shall be your servant.
Christians get it twisted. Jesus did not say that you should be insignificant or even shy away from building wealth.
Jesus was referring to having unselfish motives when He said that he who is
least among you all will be great.
This is true. When you think about benevolent kings they are some of the greatest servants of all. They have the best interests of the people they serve at heart.
Perfect? No. Neither was king David, a man after God's own heart. Thank God for His mercy, grace, and forgiveness!
What is an entrepreneur? They are courageous leaders. They are kings. Jesus Himself is the King of kings and the greatest servant of all.
If we are to be like Him… we should rethink what it means to be a king.
Click here for a short list of famous entrepreneurs who are also olympians. See how they have become EntreEvangelists.
If their stories inspire you maybe it's time to see yourself the way God does. As a king and priest. As an entrepreneur. We are here to encourage, equip and empower you to be released as a king into the marketplace.
Go to our entrepreneur home business page to see how more Christians are getting into business for themselves.
Kingdom of God Built by Kings
Let's think about a couple things.
❓ How many priests can you remember in the Bible who did great things for God?
❓ How many kings do you remember who did great things for God?
There are fifteen books in scripture that record what leaders and kings did for the Kingdom of God.
There is Abraham, Isaac, Jacob, Saul, David, Solomon, Jehoshaphat, Hezekiah, Josiah… just to mention a few.
It was and is the kings who God often uses to get things done for His Kingdom on earth. They worked with the priests and prophets.
We need to return to the example we find in scripture. God ordained kings, priests and prophets. When they worked together for the glory of God great things were accomplished.
You can become an entrepreneur… famous for being used by God to change people's lives. Find out more about how to become an entrepreneur.
Partner with us to raise up and release additional kings. Let's change the world by serving our fellow man.
Return from Famous Entrepreneurs to Christian Business Opportunities
SaveSave