Christian Web Sites Grow Your Business
Christian Web Sites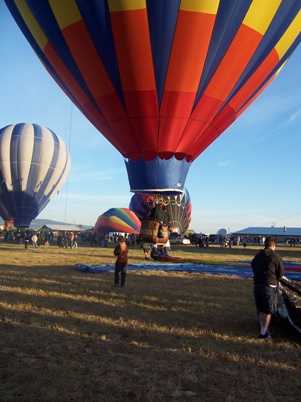 Is it Christian web sites or websites? Either is correct.
Just one of many things we have learned using the Internet to connect with people looking for Christian business opportunities.
The more common usage is "website". We like to be different so we use "web site". You can also use "Web site".
A Lot of Hot Air
When we started to research the Internet to market our home business ideas, we looked at what others were doing.
We were terribly disappointed… even with other Christian web sites.
We found a lot of hype that lacked any character or originality. Lot's of big promises full of hot air.
Hot air where we live is for balloons that float by our home every Fourth of July.
Dare To Be Different
A lot of stuff online is cookie cutter replicated web sites just wanting to get your e-mail address so they can bombard you with automated online solicitations.
It's a real turn off to us and we think to most others who are looking for something real.
We knew we wanted to do something different in offering a lot of value to people. We wanted to build a web site that was unique to us… not just a personalized copy of someone else's.
We want people to gain from our real life experiences. Many people have helped us along the way. It's important for us to help others when we can.
Don't Waste Your Money
We believe that in today's economy an Internet presence is important for any business… but there's a right way and a wrong way to approach the Internet.
The most important thing we can tell you about Christian web sites is this… do not do anything… nothing… until you check out what we have to say about Ken Evoy.
Otherwise you could waste lots of your money.
Even if you are a very experienced web designer you need to take a time out and learn something that will keep you from getting sucked into wasting tons of time and money.
We know it's harder to build trust over the Internet. It's not the same as working with people on the phone or face to face. So what if…
What if a Christian web site can be created that offers tons of good content… content that people can really benefit from once they find our web site?
What if it is also a way to minister to our online visitors… a way to connect with others and share things that they can use to their own benefit?
If We Can Do It You Can Do It
Our first attempt to build a web site was disastrous. It was the trial and error method even though we used a top web hosting company.
They had all the great tools as far as the technical end goes but there was so much ignorance on our part we didn't really have a clue. And they didn't offer the information we needed to educate ourselves.
We had no ranking on the Google Search Tool and very little traffic. A lot of time and money was spent to learn what doesn't work. Another "agony of defeat" experience.
It took another year before we came across someone who really knows his stuff. Dr. Ken Evoy. As we began to learn from Ken Evoy it was amazing how much we realized we did not know.
The most exciting part is that he has integrity. He is doing what we want to do… over deliver. He gives people more than they expect at no cost.
Plus he doesn't put up with offensive material. No pornography, cheating, scams or other nasty stuff.
There is so much valuable information… all for free… to point us toward Internet Marketing success.
Useful Stuff You Can Check Out
Using all the training, coaching and mentoring available through SBI!'s network of affiliates we built this Christian web site that connects us with the people like you who are looking for a change.
Here are a few things we decided to use:
• Covenant Eyes for accountability.
• Filtered ISP to block offensive web sites.
• Best Article Directories for traffic.
• Site Build It! to build our Christian web sites.
• Bluehost for website and email hosting.
• AWeber for email autoresponder lists.
Web Site Questions?
Leave a reply or ask a question in the comments window below.
Please remember that this is not legal advice, it is general information about business questions. Please see our terms of service page before submitting. If you submit a question below, you agree to not rely on any of the information on this site.
You must contact an attorney for any legal advise, as this information is general and your business question, facts, and local laws might very likely change our answer. Thank you.
Return from Christian Web Sites to Christian Business Opportunities
SaveSave
SaveSave
SaveSave
SaveSaveSaveSave
SaveSave